作者
Monica DENG
2016-10-24 15:51:23
喜好专长: 四处旅游~ | 发布文章: 5篇
分享:
Date with Chinese Watery Village
"Date with Chinese Watery Village"
—— Two days & One night trip to Wuzhen, an ancient town in Tongxiang city, northen Zhejiang province


'Before departure'
<How to get there>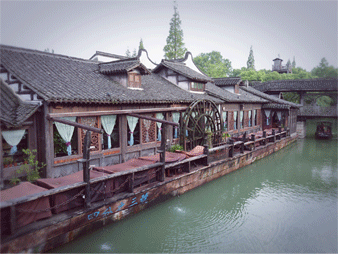 Although Wuzhen's transport is still developing, there are several ways for you to arrive in there. First of all, it depends on where do you leave from.
① If you are far from there so that you need to take a plane, then your first destination is Xiaoshan international airport in Hangzhou which is only 80 kilometers away from Wuzhen bus station and there is a nonstop shuttle bus in airport. It only takes one and a half hours.
② If you're in the surrounding cities of Tongxiang like Zhejiang province or Shanghai and etc, then I would highly recommend you to take a long-distance bus. Normally, you can get there directly by bus while for railway I'm afraid that you have to transfer to bus again.
(For more specific information, some domestic traveling websites like Ctrip and Qunar might be handy.)

'Before departure'
<Where to live>
The whole town, Wuzhen, is like a large resort. So there are plenty of choices for accommodation. You can live inside of the West scenic area while it costs over ¥ 1000 yuan and you must book at least 5 days in advance otherwise it would be sold out. The advantages for living inside are as followed:
① you can enjoy the well-known night scene of west scenic area late, in other words, you don't need to worry about closed time.
② for tourists living inside, you can entry scenic area more than once, however normal tourists' tickets are single-pass. For tourists who don't have enough budget, I think some outside inn closed to scenic area with attractive price(from ¥300) would be a preferable option.
Here are some tips:
① choose a suitable room(decoration style, size, theme)
② check how far it from scenic area, within 1 km would be appropriate
③ call the owner of inn first, some of them offer pickup & delivery service( from bus station to the inn)
④ if you are driving a private car, then make sure that it provides you with parking lots.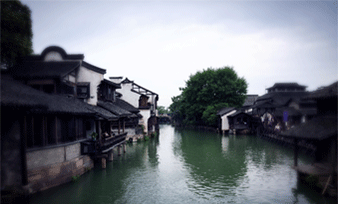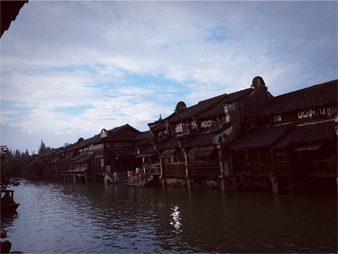 <West scenic area>

'Before departure'
<What to bring>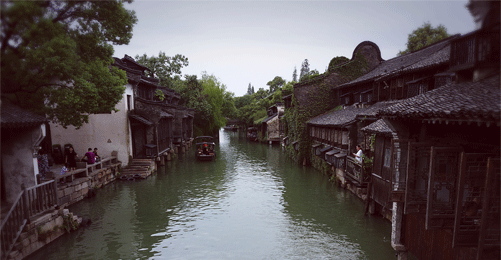 Food! Food! As much as possible! As I wrote above, the whole town is like a large resort. The result of it is the increasing price of food while still lack of choice. The diversified cakes are symbolic so that you could give it a shot, however talking about the daily food, you only have insufficient options. All in all, buy some bread or other kinds of food which are easy to carry, or if it's possible, cook some dishes and pack in sealed picnic boxes.

'During the journey'
<East scenic area>
Ticket price: ¥ 100 each
Description: Compared to west scenic area, east scenic area is not only a commercial scenic area, but also a living community for local retired elders, which means that the buildings there are relatively original and less organized. It will only take no more than two hours for you to walk around the whole east scenic area. You can also choose to hire a boat which costs ¥30 yuan each person single way.
<Eest scenic area>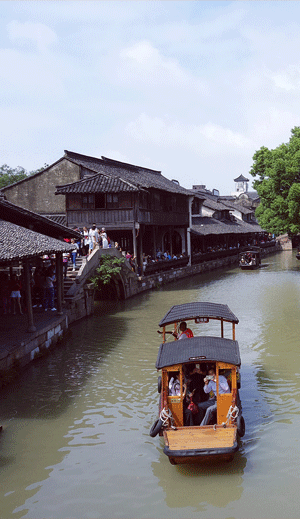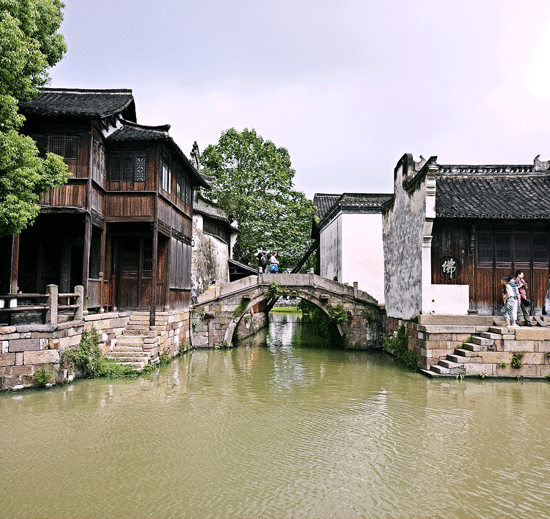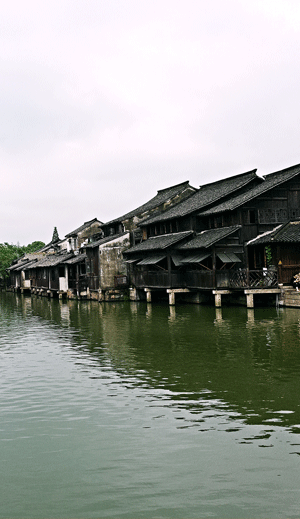 <Night view of west scenic area>

'During the journey'
<West scenic area>
Ticket price: ¥ 120 each ( for coupon ticket: ¥ 150 each for both east scenic area & west scenic area)
Description: This is a must-go tourist attraction in Wuzhen. There are many delicate boutique shops selling home-made snacks, hand-crafted accessories and souvenirs. Set aside as much time as possible, so that you can enjoy the distinctive and unique scenery.
Along the riverside, there are a lot of tea houses and coffee shops, you can sit for a while to snatch a little leisure from crowd. Don't leave before the night falls, because the entire scenic will light up colourful lights, which would make a totally different world to daylight. You can also choose to take a boat( ¥ 60 for each one single way) to appreciate the scenery on both sides along the river.